Tuesday, 26th September 2017
Rose's new book, Dinner & Party: Gatherings. Suppers. Feasts., is hot off the press and available to purchase from all good book stores.
Whether you're a beginner looking for simple, impressive recipes to feed friends and family, or a seasoned host hoping to inject your repertoire with stylish, interesting ideas, you'll find all you need in Dinner & Party.
Rose's stance on entertaining is that the cook shouldn't be banished to the kitchen; cooking for guests needn't be fussy or hard to juggle, but instead made up of dishes – some classics, some novel – that can be prepared in advance, dressed up to impress last minute and enjoyed by everyone. Practicality is central to a book updating the etiquette for entertaining in our times.
With this in mind, Part 1: Dinner showcases easy options for every course, all alongside thoughtful advice about how to source ingredients, when to begin preparation and how to serve. Meanwhile, Part 2: Party provides tried and tested catering ideas for larger groups, from indoor picnics, to standing parties and Christmas dinners.
With sample menus, including an innovative guide to putting the right dishes together through the seasons, this is the friendly, practical guide to making entertaining easy in the 21st century, bringing everyone together.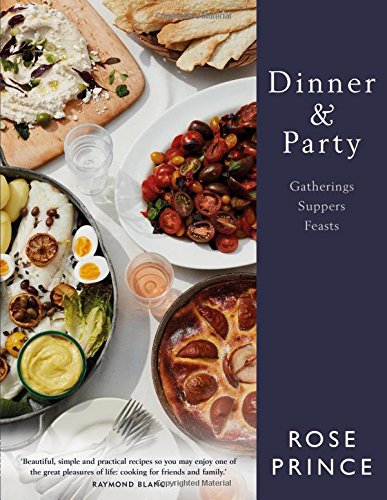 Author: Rose Prince